150 New Funnel Blocks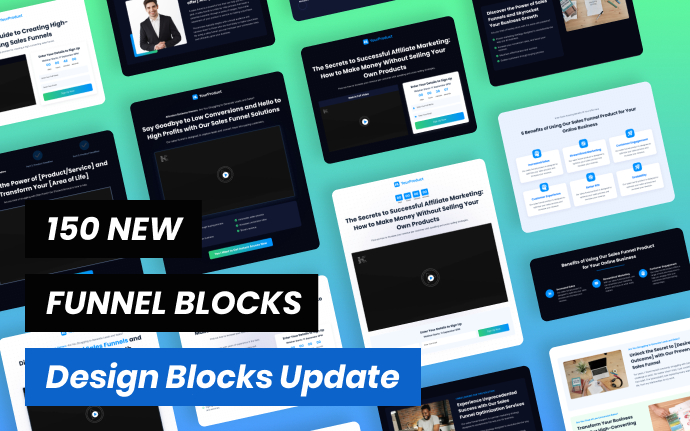 Introducing 150 New Funnel Blocks for Kickpages!
We're excited to announce the release of 150 new funnel blocks for Kickpages. These new blocks are specifically designed to help you create stunning sales pages that convert visitors into customers.
Whether you're a seasoned marketer or just starting out, Kickpages makes it easy to build high-converting sales funnels without any coding or design skills. With the new funnel blocks, you can now choose from a wide range of pre-designed elements to create your own custom sales pages in minutes.
We have blocks divided into all of these categories so you can quickly create any type of page you need:
Benefits
Bonus Details
Bonus List
Checkout Order Form
Content Image
Content Intro
Countdown
CTA
FAQ
Feature Details
Features Grid
Footer
Guarantee
Header
No Thanks
Offer Stack
Optin
Order Complete
Pricing
Product Details
Progress
Proof Stats
Steps
Support
Testimonials
Wait
Webinar Banner
You will find these blocks by clicking "Blocks" then selecting "New Funnel Blocks" from Collections menu.
So if you're ready to take your sales funnel to the next level, head over to Kickpages and start using the new funnel blocks today. With these powerful tools at your fingertips, you'll be able to create high-converting sales pages that drive more sales and revenue for your business.